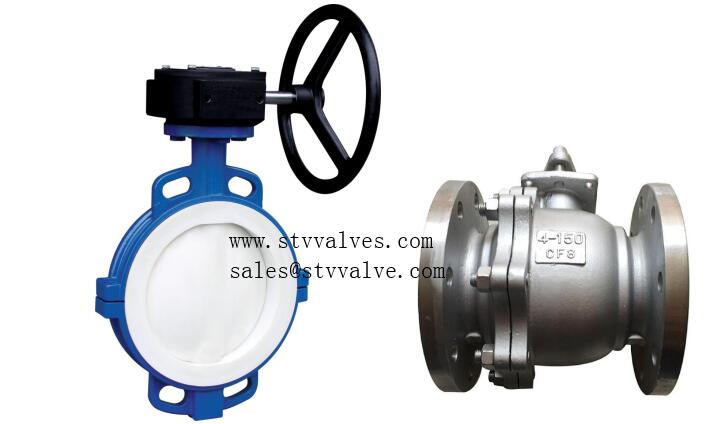 We all know that there are many kinds of ball valves, including this butterfly valve is one of them. Then the well-known difference between ball valve and butterfly valve is its opening and closing parts, the opening and closing parts of butterfly valve are plates, and the ball valve is a ball. They all rotate around one of their axes. Let's go on and see what's the difference between butterfly and ball valves.
Distinction One
Ball valves and butterfly valves have different cut-off modes: ball valves block the passage through the ball to achieve pipeline cut-off flow; butterfly valves rely on butterfly wings, laying the sealed pipeline will not flow.
Difference 2
The structure of ball valve and butterfly valve is different: ball valve is made of valve body, spool and stem assembly, only part of the parts can be seen in the body; butterfly valve is made up of valve body, seat, valve plate and stem, all parts are exposed outside. So it can be seen that the sealing of butterfly valve is not as good as that of ball valve. Speaking of sealing, butterfly valves are also divided into soft and hard seals. Butterfly valve structure is relatively simple, can only be used in low pressure environment, the maximum pressure is only 64 kg. Compared with ball valves, ball valves can be up to about 100 kilograms.
Distinction 3
The working principle of ball valve and butterfly valve is different: the ball valve has 90 degrees rotation action, because its opening and closing parts are spheres, only need to operate 90 degrees rotation to open or close, which is the most suitable switch. But now V-type ball valves can be used to regulate or control flow. The butterfly valve is a kind of valve which uses disc-type hoist to turn back and forth about 90 degrees to open, close or regulate medium flow. It has good function of regulating flow and is one of the fastest-growing valve varieties.
Comparison of Butterfly Valve and Ball Valve
Advantages of butterfly valve 1: simple structure, small size, light weight; Disadvantage is that the use of pressure and working temperature is much smaller than the spherical valve range.
Advantages of butterfly valves 2: Good sealing can be achieved under low pressure; Disadvantage is that the sealing performance is much worse than that of ball valves.
Advantages of butterfly valve 3: It can transport mud, and has the least liquid in the pipe mouth, which is better than ball valve.
Advantages of butterfly valves 4: The structure principle of butterfly valves is more suitable for large caliber valves, which are widely used in petroleum, gas, chemical and other industries.