One. Opening and closing parts are different
Gate valve: The opening and closing part is the gate, the movement direction of the gate is perpendicular to the direction of the fluid.
Butterfly valve: The opening and closing part is a disc-shaped butterfly plate, which rotates around its own axis in the valve body.
Globe valve: The opening and closing parts are plug-shaped discs, the sealing surface is flat or conical, and the disc moves in a straight line along the center line of the fluid.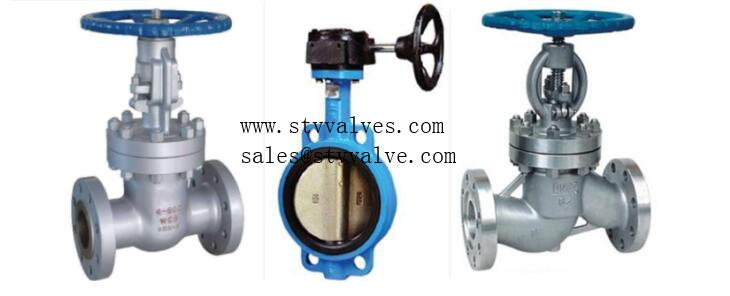 Different Characteristics
Gate valve: light weight, flat bottom gate seat, integral glue coating, precision casting valve body.
Butterfly valves: simple structure, small size, light weight, low material consumption, small installation size, fast switching, 90 degree reciprocating rotation, small driving moment and other characteristics. They are used to cut off, connect and regulate the medium in the pipeline. They have good fluid control characteristics and sealing performance.
Globe valve: The stem opening or closing stroke of this kind of valve is relatively short, and it has a very reliable cut-off function. Because the change of the seat opening is proportional to the disc travel, it is very suitable for flow regulation.
Different working principles
Gate valve: The gate plate of the gate valve moves in a straight line with the stem. It is called lifting bar gate valve, or open bar gate valve. Usually there are trapezoidal threads on the lifting rod. Through the nut at the top of the valve and the guide groove on the valve body, the rotary motion is changed into linear motion, that is to say, the operating torque is changed into the operating thrust.
Butterfly valve: A valve that opens, closes or regulates the flow of medium by reciprocating about 90 degrees with disc-type opening and closing parts. The butterfly valve not only has simple structure, small volume, light weight, less material consumption, small installation size, small driving moment, simple operation and rapid, but also has good flow regulation function and sealing characteristics.
Globe valve: The closing principle of stop valve is to make the sealing surface of disc and seat close together by the pressure of valve rod to prevent the flow of medium. Our country's valve "three-way feed" once stipulated that the flow direction of globe valve should be from top to bottom, so there is directionality in installation.