Description
Design Description:
-Valve Type: Knife Gate Valve.
-Valve Size: 2"-48"
-Pressure Rating: Class 150
– Outside Screw and Yoke
– Bolted Bonnet and Pressure Seal
– Flexible and solid wedge, fully guided
– Welding seat rings or Renewable seat rings
– Rising stem and non-rising stem
– Available with gear operator
– Flange Ends & Buttwelding Ends
– Low torque design, smooth surface stem.
Standards: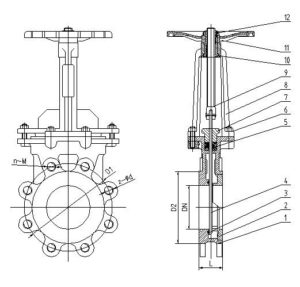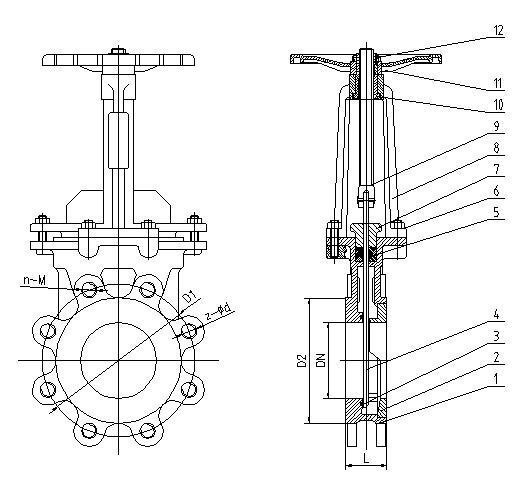 Design Standard

MSS SP-81

Face to Face

MSS SP-81

Flange Ends Dimension

ASME B16.5/ASMEB16.47

Inspection & Test

MSS SP-81

Available with lever, chain, gear, electric, air and hydraulic actuators.
Parts & Material List
Part Name

Carbon Steel to ASTM

Alloy Steel to ASTM

Stainless Steel to ASTM

1 

Body

A216 WCB

A352 LCB

A217 WC1

A217 WC6

A217 WC9

A217 C5

A351 CF8

A351 CF8M

A351 CF3

A351 CF3M

2

Seat

PTFE or NBR

 3

Knife

A216 WCB

A352 LCB

A217 WC1

A217 WC6

A217 WC9

A217 C5

A351 CF8

A351 CF8M

A351 CF3

A351 CF3M

 4

Packing

Flexible Graphite +SS, PTFE

 5

Packing Flange

A182 F6a

A182 F6a

A182 F6a

A182 F6a

A182 F6a

A182 F6a

A182 F304

A182 F316

A182 F304L

A182 F316L

 6

Stem

A182 F6a

A182 F6a

A182 F6a

A182 F6a

A182 F6a

A182 F6a

A182 F304

A182 F316

A182 F304L

A182 F316L

 




7

Yoke

A216 WCB

A352 LCB

A217 WC1

A217 WC6

A217 WC9

A217 C5

A351 CF8

A351 CF8M

A351 CF3

A351 CF3M

 8

Stem Nut

Copper Alloy or A439 D2

 9

Nut

A194 2H

A194 4

A194 2H

A194 4

A194 4

A194 4

A194 8

A194 8

A194 8

A194 8

 10

Hand Wheel

Ductile iron or Carbon steel

11 

Bolt

A193 B7

A320 L7

A193 B7

A193 B16

A193 B16

A193 B16

A193 B8

A193 B8

A193 B8

A193 B8

 12

Nut

A194 2H

A194 4

A194 2H

A194 4

A194 4

A194 4

A194 8

A194 8

A194 8

A194 8